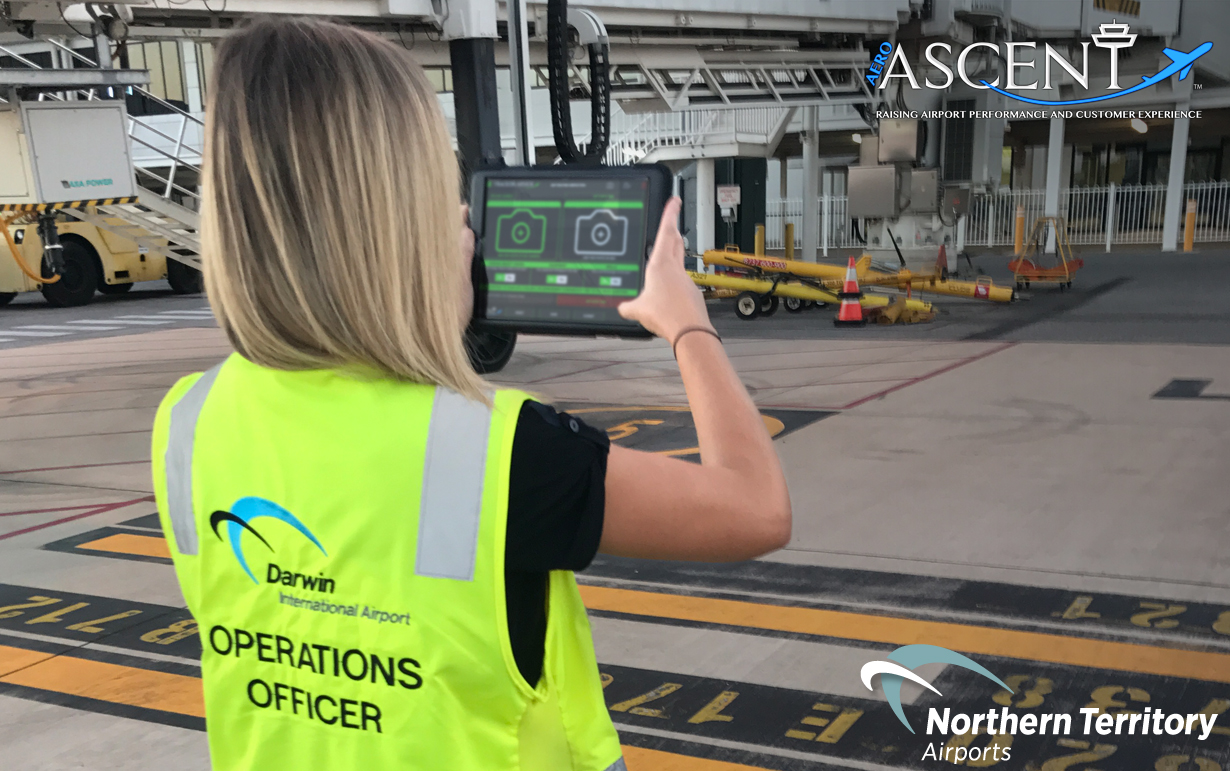 PROGRESSIVE INNOVATION TAKES OFF AT NT AIRPORTS
Northern Territory Airports has become the first Australian capital city airport group in the under 5m pax category to deploy an innovative suite of mobile apps to manage its operations and boost intelligence.
Key airside officers at the group's flagship Darwin International Airport will start using disruptive and innovative mobile apps developed by AeroAscent, an Australian based global innovation company that specialises in raising airport performance and improving the customer experience through its unique and disruptive mobile apps.
Airport management began working with AeroAscent after trying to develop their own solutions and searching domestically and internationally for offerings which were found to be unsuitable and far less cost-effective than those offered by AeroAscent.
"While our airport is a capital city airport in the under 5m pax category, it is very diverse," says Garry Porter, Head of Operations at Darwin International Airport. "We are a joint user (with RAAF) 24/7 international airport with scheduled passenger services, general aviation services and a large contingent of Royal Australian Air Force (RAAF) aircraft. So, our operations are unique."
Darwin International Airport saw a need for improved efficiency and safety, and recognised the effectiveness of AeroAscent's TrackerAIRSIDE solution, a tablet-based mobile app enabling airport and airfield operations officers to capture, track and influence airside compliance, safety, incident management, operational maintenance and overall airside performance.
"We researched for a solution in the local and international market and we were unable to find a solution that comes close to providing the same level of rich functionality and a remarkable end-user experience – that's why AeroAscent was a no-brainer to us."    Garry Porter
Lance Orsmond, Founder and Director of AeroAscent, spent some time engaging with airside operations at the airport before implementing the latest releases of the TrackerAIRSIDE, Dashboard and Pulse apps, which are already in use at other leading airports.
"Our unique innovations and Northern Territory Airports' vision and innovative thinking allowed us to start delivering instant value and team enablement together," he says.
For AeroAscent, the diversity of Darwin International Airport's operations provided increased application of its solutions' capabilities, and Orsmond says the innovative apps "are already helping to streamline airside activities, efficiently manage safety and boost intelligence in this diverse aerodrome environment".
Darwin International Airport's Porter is confident that the apps will allow his team to leapfrog existing airside processes and management approaches, taking advantage of enhanced situational awareness, paperless processes and real-time intelligence.
"We're finding that providing team members with a paperless end-user experience with our apps is actually enabling our teams, linking them together and allowing unprecedented real-time intelligence and collaboration."
Orsmond, meanwhile, is convinced that his company's innovations will enable further disruptive innovation in the hands of NT Airport's leadership. "We've really 'clicked' with Garry and his team. They're constantly questioning conventional wisdom and looking for new, smarter solutions. That's pushing us to deliver maximum functionality in our apps," he explains.
"It's encouraging to see our latest releases of TrackerAIRSIDE, Dashboard and Pulse Apps delivering instant value to Northern Territory Airports as they are enthusiastically applied by a motivated airport team." Lance Orsmond
The collaboration will grow over the next few months, with plans to roll out the AIRSIDE apps to the group's Alice Spring airport in the next three months.
The next step will be to introduce AeroAscent's TrackerLANDSIDE app in Darwin.
"TrackerLANDSIDE allows the airport workforce responsible for the operational running of the terminal, car parks and other landside locations to inspect, observe, capture and analyse activities and decide on the most effective real-time running of key airport touchpoints – from access roads to departure gates," Orsmond explains.
"Our aim is to run the safest, most efficient facilities that exceed the expectations of all the stakeholders – and airports certainly have many of those.
"We feel that we're on the right path and are thankful to AeroAscent for providing the industry thought leadership and innovation experience that turn our ambitions into reality," says Porter.
Northern Territory Airports is among a growing number of forward-thinking airport operators in the AeroAscent stable.
Orsmond says his company's innovations are enabling airports to raise their performance levels and drive value creation never thought possible, and is impressed at the vision of airport operators like Northern Territory Airports.
"We continue to learn from our implementations, and we pick up something new from each airport we work with. And airports, in turn, appreciate our practical, hands-on expertise as they realise that we're not just an app developer, but rather an innovation partner who can help them achieve their often-lofty aspirations."
AeroAscent is the only Australian-based airport innovation company delivering custom apps that raise airport performance and customer experience through the tracking and actioning of Airside and Landside Intelligence. The company builds on Orsmond's extensive corporate business intelligence and innovation experience with some of the region's leading multi-nationals.
For more information, contact AeroAscent,
T: +61 2 8916 6435 E: goaero@aeroascent W: AeroAscent.com