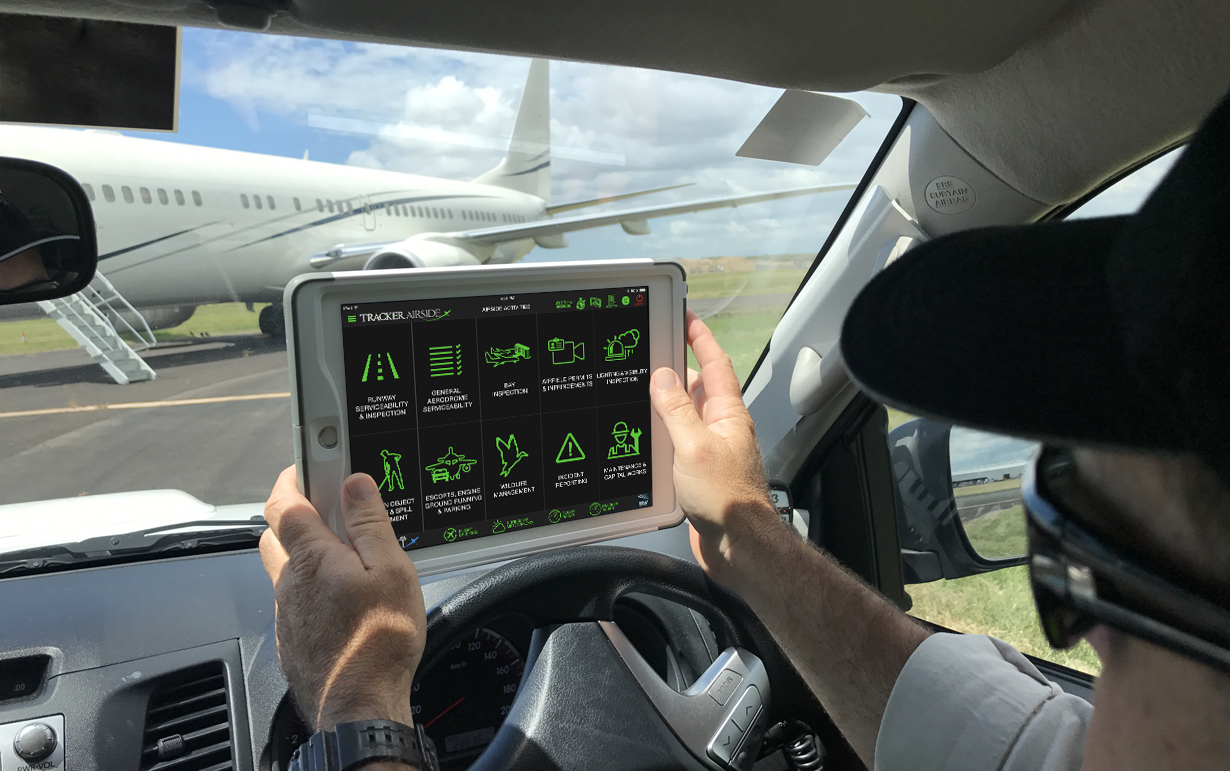 BRISBANE AIRPORT INNOVATES WITH AEROASCENT TO BOOST EFFICIENCY AND INTELLIGENCE
Brisbane Airport Corporation (BAC) has turned to Australian airport systems and processes innovator AeroAscent to keep it on the cutting edge of airport operations, apps and intelligence. The award-winning airport is among the first in the world to partner with AeroAscent, a Gold Coast-based global innovation company that specialises in raising airport performance and improving the customer experience through its unique and disruptive mobile apps.
BAC has entered into a strategic contract with AeroAscent, following an in-depth analysis of the airport's operations and assessment of its current and future 'airport intelligence' needs. This contract will deliver a suite of innovative apps that boost efficiency, business intelligence, risk management, customer experience and overall performance.
According to Stephen Goodwin, BAC's General Manager Operations and former Chairman of the Australian Airports Association, AeroAscent was chosen as a key partner because, like the airport operator, it is committed to innovation and disruptive thinking.
"We have already spent some time with the AeroAscent team and recognised that they uniquely understand the need to digitise airport operations in order to gain deeper insight and help us reach the next level of efficiency and customer experience. They also know how to build apps that are powerful, easy to use and customised to our business, our customers and our systems that can get us where we would like to be," he says.
AeroAscent Founder and Executive Director Lance Orsmond says BAC will initially be using four key AeroAscent products in its thrust to improve efficiency, business intelligence and customer satisfaction.
"In an effort to enhance their airside operations, they have chosen to use our TrackerAIRSIDE app, an innovative tablet-based app which digitises and tracks all aerodrome activities including inspections, incidents, faults, safety and compliance events. In Brisbane, as elsewhere in the world, much of this activity is still done manually with paper, and this app brings it into real time, completely paperless, and allows everyone to access vital aerodrome analytics," he explains.
"Around 30 key staff on the airfield at BAC will use this app to monitor and manage key aspects of the operations on the ground. This will allow them to input vital information in a standardised way, adding video, photos, GPS coordinates and time stamping. All of this information provides important intelligence to improve business process and evidence of activities in a safety-sensitive and heavily regulated environment."
AeroAscent Chief Executive and former Airport Chief Operating Officer, Craig Shaw says BAC will also be among the first airports to use AeroAscent's ViewPoint smartphone app that gathers input from large numbers of airport staff, volunteers and other stakeholders to provide management with real-life feedback on the customer experience at various touch-points throughout their airport experience.
"The app will allow BAC to gain deep insights into its interactions with customers – from their arrival kerbside to the boarding gate, and taking in parking, check-in, public areas, dining and shopping."
In addition, BAC will use AeroAscent's Dashboard tablet app to monitor various operational metrics in real time "to allow management to plan, benchmark and understand opportunities for improvement," he notes.
BAC's Goodwin says the AeroAscent solutions will be deployed from April 2017.
BAC expects to see further enhancements in airport performance and, importantly, customer experience as the airport continues to grow, with airline traffic increasing and more people passing through the terminals each day.
"We are confident these solutions, combined with other management strategies, will improve airside productivity, enhance safety and heighten workforce enablement and engagement. In fact, we are so confident that we are already discussing future developments for other parts of the airport operations with AeroAscent," he says.
AeroAscent, which brings together process innovation, app development and airport expertise, is assisting a number of global airports from its Australian base, with a focus on disruptive technologies and approaches for airport operations and enhanced customer experiences. The company builds on Orsmond's extensive cross industry, business intelligence and innovation experience with Coca-Cola, Red Bull, Qantas, Vodafone, ANZ and Westpac.
For more information, contact AeroAscent,
T: +61 2 8916 6435 E: goaero@aeroascent W: AeroAscent.com